For Peter Robbins, owner of the Bohemian Coffee House in Brunswick, Maine, offering fresh-baked pastries that are decadent to the eye as well as the palate is the cornerstone of a successful baked goods menu.
The Bohemian has been in operation since 1993 and many of their regulars are from that first year. "We consider our regulars family," Robbins says. "Many times we see them walk in and by the time they have made their way to the counter, stopping to talk to the morning crowd, their drink is usually ready. In the 'hurry up' world we offer quick service but still make time to give each person a special feeling. To us every day is like a long line of friends coming to visit."
While customers love their fresh, roasted coffee, they also love their flesh-baked pastries.
"We bake everything each morning right in our very tiny back room," Robbins says. "People always ask me what the most popular item is in the case, and I tell them that if I don't make cranberry nut muffins, I get in trouble. Being in mid-coast Maine I get a lot of tourists who whine when we don't have blueberry muffins, too. Although when they say, 'But this is Maine,' I get to use the standard, 'Yeah, I'm out of potato and lobster muffins too.' This usually gets a good laugh."
Bagels also are very popular choice among Bohemian's patrons. "We get parbaked bagels and bake them fresh daily," Robbins says.
Bohemian also carries croissants, sticky buns, frosted cinnamon rolls, apple and raspberry strudle, pocket apple pies, several different scones, cinnamon and raspberry twists, cookies and biscotti and of course, Maine's famous "Whoopie Pies" Just recently Robbins added stuffed croissants to the menu.
"While everything is baked on site, all items start as frozen starters–except my frosted espresso brownies, a once-a-month treat," he says. Each brownie, which Robbins makes from scratch, has three shots of espresso.
"Many items we doctor up with honey and butter glaze or, as in the case of our frosted cinnamon rolls, which start out as the same frozen item as the sticky bun, we let the sticky bun proof over night on a sprayed baking sheet so it can spread out then, after baking, we brush on the honey/butter mixture and drizzle with a little icing," Robbins says.
His customers like the fact that they bake everything in the case flesh daily (with the exception of the biscotti). "When you get out of your car, you can smell the cinnamon in the air and people come running," he says.
When Robbins first started out, he had grand ideas about raising the bar on baked goods being offered in coffee shops. He started baking some of the middle- to high-end par-baked breads.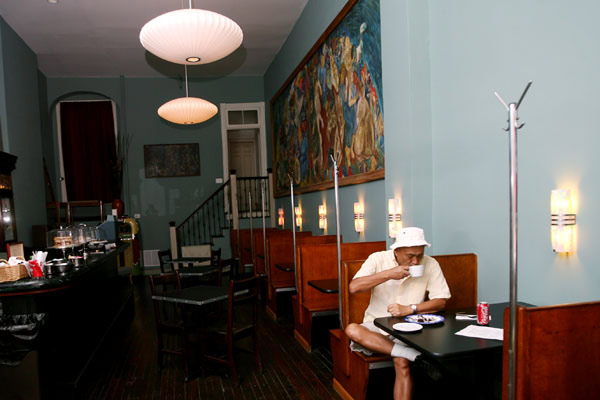 "This was great for my crew who got to take home the leftovers, but not for the register," he says. "I've also tried to spice things up by having lots of things to put on bagels–tomato, lettuce, smoked salmon. But it didn't really go over well. So we stick with the simple stuff: cream cheese (plain, green olive, chive, vegetable). We also have crunchy and smooth peanut butter, raspberry jam and butter."
When it comes to marketing, Robbins says the No. 1 thing that sells baked goods is the baked goods themselves.
"You can give out samples in the shop, but I find it's a waste of time and resources," he says. "My customers know us and we know them, when I try something new, I know who out of my regulars would like it and who wouldn't. So I recommend it to them."
When a new business moves in downtown, Robbins takes them a welcome basket filled with a variety of baked items and airpots of coffee.
"I welcome them to town and tell them just to drop off the empty basket and airpots the next morning. This gets them in the door," he says.